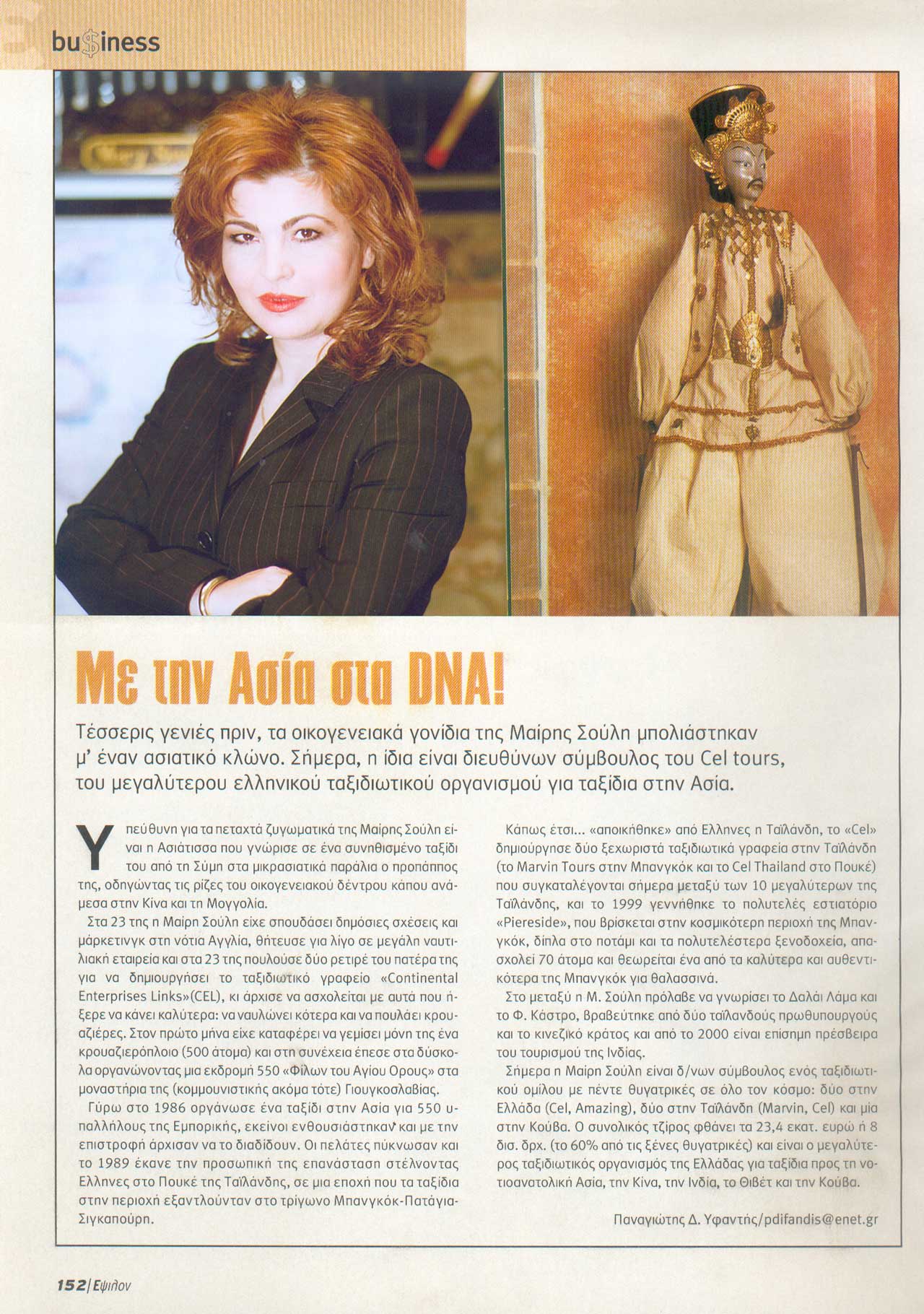 Four generations ago, family genes Mary Soulis inoculated with' an Asian strain.
Today, she is CEO of Cel tours, the largest Greek travel travel agency in Asia.
Responsible for protruding cheekbones Mary Soulis is the Asian girl he met on an ordinary journey from Symi in Asia Minor, the great grandfather of, leading rooted family tree somewhere between China and Mongolia.
in 23 of Mary Soulis He had studied public relations and marketing in southern England, he served for a while on a large shipping company and 23 the penthouse sold two of her father to create the «Continental Enterprises Links» travel agency(THE), and he began to deal with what she could do better: to charter yachts and selling cruises.
In the first month he had managed to fill itself a cruise ship (500 people) and then fell on hard organizing an excursion 550 "Friends of Mount Athos" in monasteries ( communist even then) Yugoslavia.
around 1986 He organized a trip to Asia 550 employees of Emporiki, they were delighted with the return began to spread. Customers thicken and 1989 He made his personal revolution sending Greeks in Phuket Thailand, at a time when travel to the region in the triangle exhausted Bangkok – Pattaya – Singapore.
Something like that… "Colonized" by Greeks Thailand, the «Cel» created two separate travel agencies in Thailand (in Bangkok and Phuket) which now amongst 10 Thailand's largest, and 1999 Born luxury «Piereside» restaurant, located in the cosmopolitan area of ​​Bangkok, riverside and luxurious hotels, employs 70 people and is considered one of the best and most authentic Bangkok for seafood.
Meanwhile, the M. Soulis gets to know the Dalai Llama and Phi. Castle, Awarded by two Thai prime ministers and Chinese State and from 2000 It is an official ambassador of India Tourism.
Today Mary Soulis is d / Managing director of a travel group with five subsidiaries worldwide: two in Greece (the, Amazing), two in Thailand (Marvin, the) and one in Cuba.
The total turnover reaches 23,4 million. euro or 8 billion. GRD. (the 60% from foreign subsidiaries) and is the largest travel agency in Greece for traveling to southeast Asia, China, India, Tibet and Cuba.
Panagiotis D.. Weaver
30 years we now offer trips to unique destinations , for vacation , relaxation and wedding exotic trips , individual and group on economic prices!