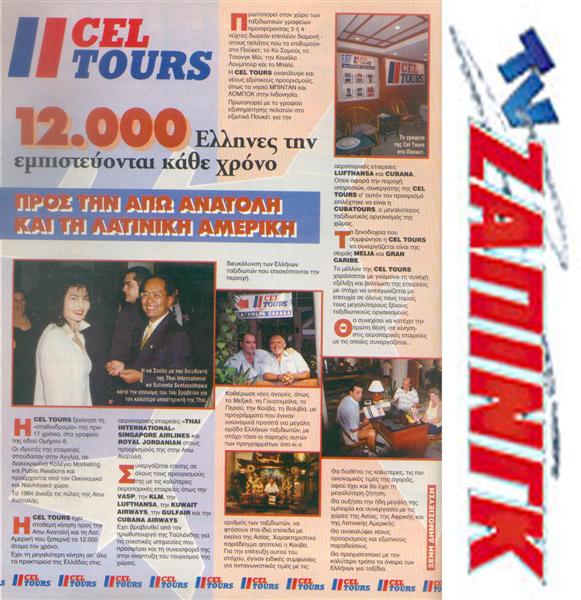 12.000 Έλληνες εμπιστεύονται την CEL ΤOURS each year προς την Άπω Ανατολή και τη Λατινική Αμερική
The CEL TOURS started -stadiodromia- before 17 years in the offices of Homer Street 8.
The company's founders studied in England, distinguished Colleges in Marketing and Public Relations and from the Economic and Maritime space.
The 1984 opened the Far East.
The CEL. TOURS has constant traffic to the Far East and Latin. America exceeding 12.000 people a year.
It has the largest movement of' all agencies of Greece airlines ΤΗΑΙ INTERNATIONAL , SINGAPORE AIRLINES and ROYAL JORDANIAN to destinations in the Far East.
It also works to all destinations with the best airlines like VASP , the KLM , the LUFTHANSA , the KUWAIT AIRWAYS, the GULF AIR and CUBANA AIRWAYS.
It awarded by the Thai Prime Minister to the quality services it offers and its contribution to the development of the country's tourism.
A pioneer in the field of travel agencies offering 3 or 4 Free extra nights stay -customers who wish to Phuket, the Koh Samoa, the Chiang Mai, the Kuala Lumpur and Bali.
OR CEL TOURS discovered new and exotic destinations, such islands bidet and Lombok in Indonesia Pioneered the customer service desk in the exotic Phuket to facilitate the Greeks travelers visiting the area. Established new markets, As the Mexico, the Guatemala, the Peru, the Cuba, the Bolivia, programs that were affordable for a large group of Greek travelers, aimed at both the benefits of these programs as much as the number of travelers, to reach the same levels as those in Asia.
A typical example is Cuba.
To achieve this goal, They made special arrangements for competitive prices with airlines LUFTHANSA and CUBAN. In providing services, partner in CEL TOURS' destination was chosen to be the CUBATOURS, the largest travel agency in the country.
The hotels agreed by the CEL TOURS works is the series MELIA and GRAN CARIBE.
The CEL TOURS future drawn Focusing on continuous development and improvement of the company in order to compete successfully in all areas of the largest foreign travel agencies. will continue to hold the top spot -in motion- the airlines with which it cooperates… will feature the best, the most economical rates, It is and will be most in demand, will increase the already great experience and cooperation with Asian countries, Africa and Latin America.
You will discover new destinations and exotic paradises. Will perform in the best way the dreams of Greek travel.
30 years we now offer trips to unique destinations , for vacation , relaxation and wedding exotic trips , individual and group on economic prices!