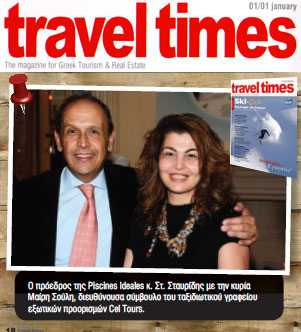 The reference period of the tourism economy Travel Times
Events for 15 STAT BANK years with a meeting in Athens today to 17 December 2008, the Constitution, the King George Hotel, FEATURED business guide "The Greek Trade" issued for the 15th consecutive year.
The event was attended by the Deputy Minister of Economy and Finance (now the Minister of Finance) K. Yiannis Papathanasiou, MP A' PASOK Athens Ms. Sylvana Rapti, Important businessmen and executives from industry, of the Commerce, the financial system and tourism and together important representatives of media. "On top of our priorities is to strengthen the region and critical areas, as one of the tourist economy "dilose.kata his speech Mr.. Papathanasiou, who presented the priorities of the NSRF and continued: "Right now the absorption of C' CSF has a total exceeded 85% resources and we are confident that we will be able to exploit even the last euro. Furthermore it is true that 80% of ESPA resources directed to the periphery, to support the balanced development, reduce inequalities and improve people's quality of life ".
Note that the driver "The Greek Commerce – The Greek Commerce »was published with the sponsorship of DEPA, ETA, ING Πειραιώς, Genesis Pharma, BMW Σπανός και ΔΕΣΦΑ. hosting sponsor was the King George and media partners the unique economic SBC channel and the magazine of the tourism economy Travel Times.
30 years we now offer trips to unique destinations , for vacation , relaxation and wedding exotic trips , individual and group on economic prices!