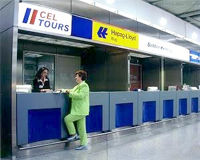 The travel agency Cel Tours recently opened an office in departure hall Airport 'Eleftherios Venizelos', which as known are only the offices of airlines.
The Cel Tours managed to secure this space, to generally upgrade offered to clients of services, but particularly to better serve those coming from other cities in Greece.
The office is open from 8 am to 8 the evening, very close to the offices of airlines Thai Airways and Singapore Airlines, which are the main partners of Cel Tours in Asia programs, and almost opposite the counter usually becomes the ticket inspection on departure to Bangkok or Singapore.
30 years we now offer trips to unique destinations , for vacation , relaxation and wedding exotic trips , individual and group on economic prices!