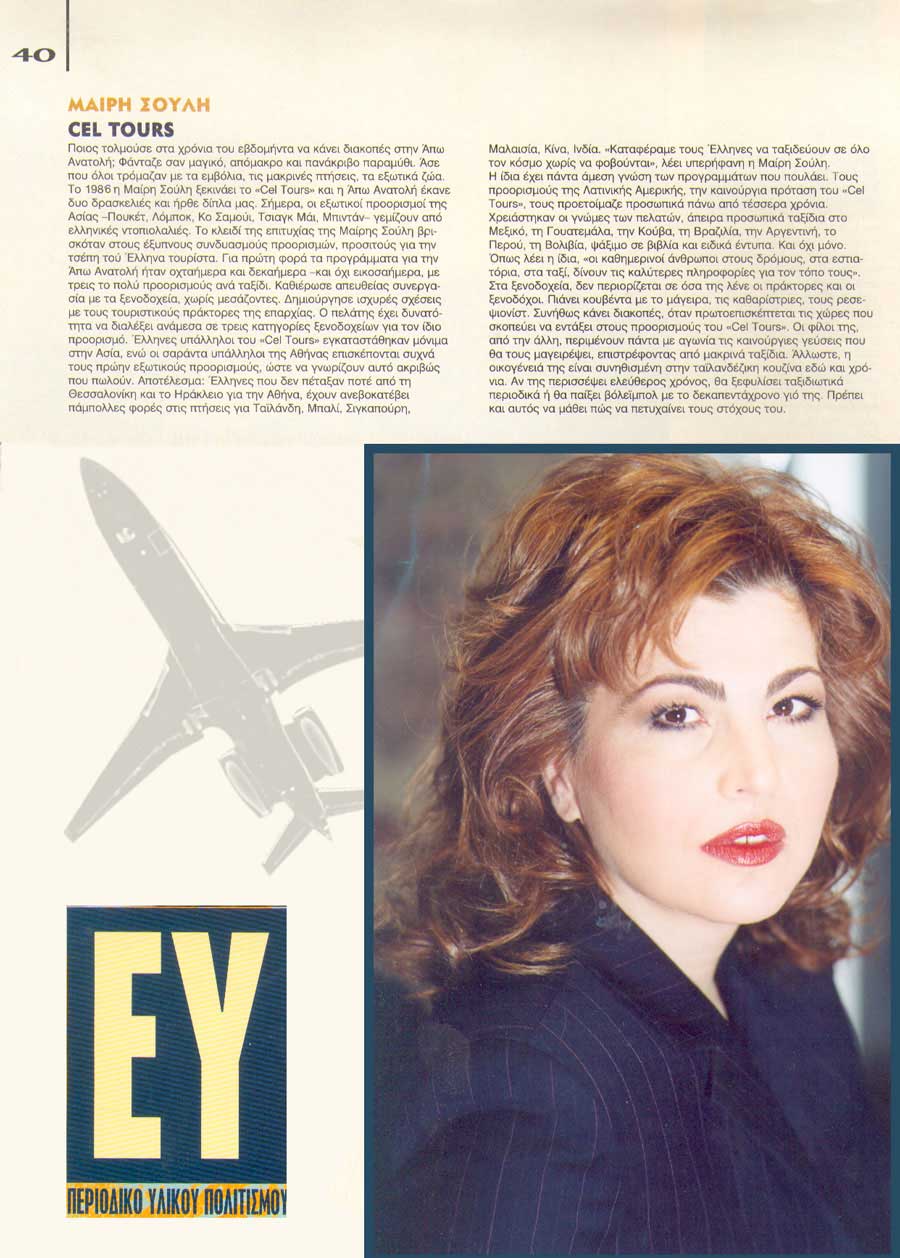 Who dared to seventy years of making vacation in the Far East; It seemed like magic, distant and expensive tale. Let all that scared vaccines, long-haul flights, exotic animals.
The 1986 Mary Soulis starts -Cel Tours- and the Far East made two strides and came next to us.
Today, exotic destinations in Asia-IIouket, Lombok, Koh Samui, Chiang Mai, Bintan filled by Greek dialect.
The key to success of Mary Soulis was the clever combinations destinations, affordable for the pocket of Greek tourists. For the first time the programs for the Far East was eight-day and ten-day and not twenty days, with a maximum of three destinations per trip. Established direct cooperation with hotels, without middlemen. Create strong relationships with tour operators in the province.
The customer can choose between three categories of hotels for the same destination. Greek officials -Cel Tours- They settled permanently in Asia, while forty employees in Athens often visit their former exotic destinations, so they know exactly what you sell.
Result: Greeks never flew from Thessaloniki and Heraklion to Athens, They have to walk up and down many times for flights Thailand, Bali. Singapore. Malaysia, China, India. –Greeks managed to travel around the world without fear-, Proud says Mary Soulis. She always has direct knowledge of the programs that sells.
Destinations in Latin America, the new proposal -Cel Tours- He prepared them personally over four years. It took – customer opinions, infinite personal journeys in Mexico, Guatemala Cuba, Brazil, Argentina, Peru, Bolivia, searching in books and special forms And not only. She says, -ordinary people on the streets, restaurants, the taxi, They give the best information for their land-.
hotels, not limited to those of say agents and hoteliers. Catches chatting with the cook, cleaners, the receptionist. Usually choppy, when protoepiskeptetai countries intend to integrate the destinations of -Cel Tours-.
Her friends, on the other, always anxiously awaiting the new flavors that will cook them, returning from long trips. besides, the family are common in Thai cuisine for years. If the stray Leisure, would leaf through travel magazines or play volleyball with the fifteen-year son. And he must learn how to achieve their goals.
30 years we now offer trips to unique destinations , for vacation , relaxation and wedding exotic trips , individual and group on economic prices!