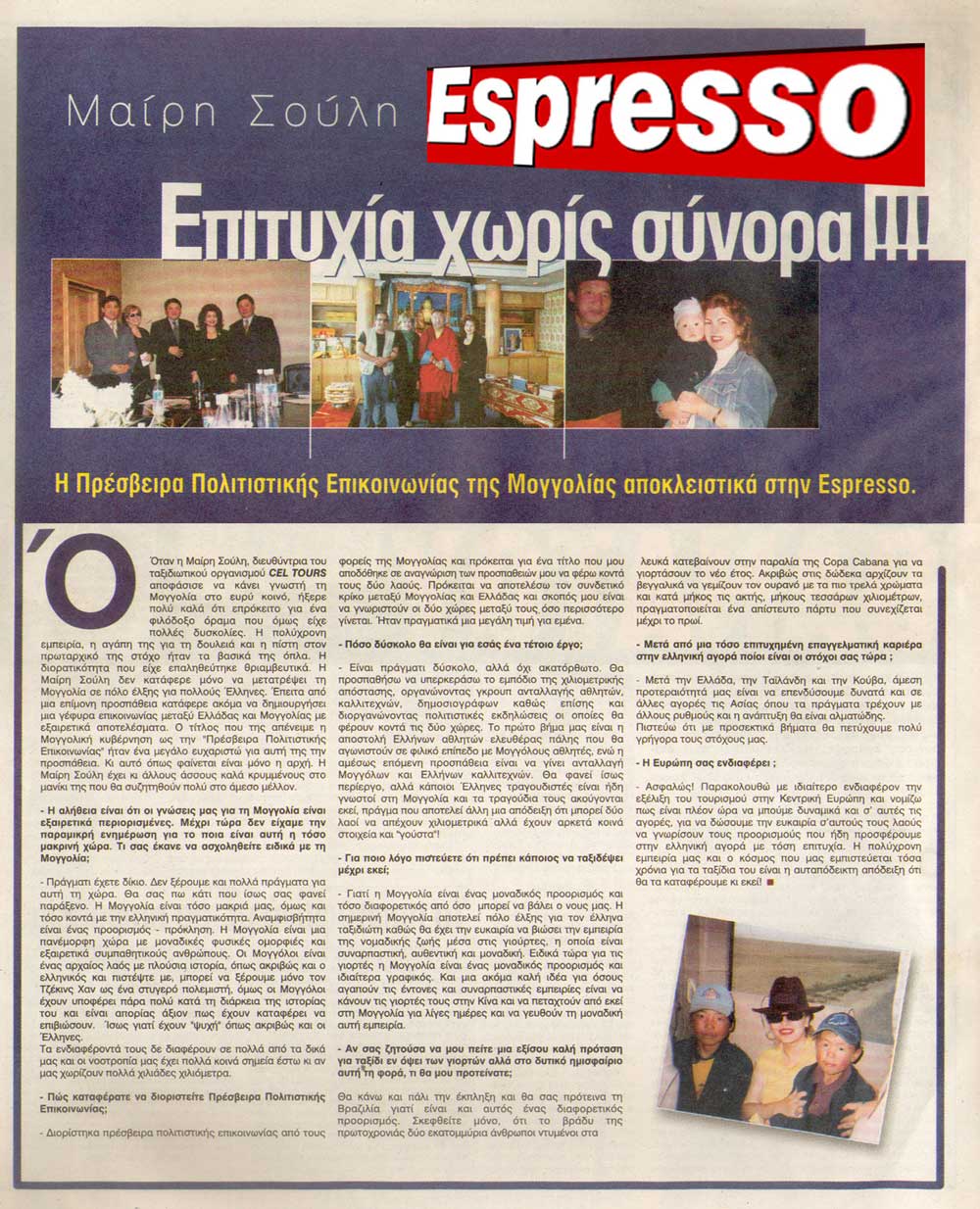 When Mary Soulis, director of the travel agency CEL TOURS decided to make known the Mongolia the general public, He knew very well that this was an ambitious vision but had many difficulties.
Our extensive experience, the love for work and loyalty to the primary objective was the key weapons.
The insight was verified triumphantly.
Mary Soulis only failed to transform Mongolia to son attracts many Greeks. After a strenuous effort still managed to provide a bridge between Greece and Mongolia with excellent results.
The title of the Mongolian government awarded as the "Ambassador of Cultural Communication" was a big thank you for this effort. And it seems like it is just the beginning. Mary Soulis has KJ others well hidden aces up its sleeve to be discussed much in the near future.
– The truth is that our knowledge of Mongolia is extremely limited. Until now we did not have the slightest information about what this so distant country. What made you deal specifically with Mongolia:
– Indeed you are right. We do not know much about this country. I'll tell you something that may seem strange.
Mongolia is so far away, and yet so close to the Greek reality undoubtedly is a destination – challenge. Mongolia is a beautiful country with a unique natural beauty and extremely nice people. The Mongolians are an ancient people with a rich history, just as the Greek and believe me, We can only know the Jenkins Khan as a cruel warrior, But Mongols have suffered too much during its history and it is surprising that they have managed to survive. Perhaps because they have "soul" just like the Greeks. Their interests do not differ much from ours and our culture has much in common even though separate us many thousands of kilometers
– How did you manage to be appointed Ambassador of Cultural Communication;
– Appointed ambassador cultural communication by Mongolian institutions and this is a title that was given me in recognition of my efforts to bring close the two peoples. They constitute the link between my Mongolia and Greece and purpose is to meet the two countries with each other as much as possible. It was really a great honor for me.
– How difficult it will be for you one such project;
– It is indeed difficult, but not impossible, I will try to overcome the barrier of mileage, organizing sports exchange group, artists, journalists as well as organizing cultural events of which would bring together the two countries. Our first step is to send free wrestling athletes Greeks opted to haberdashery level Mongols athletes, while the next effort is to exchange Mongols and Greek artists, It will probably seem strange, but some singers are known in Mongolia and their songs heard there. which is another proof that both peoples may refrain mileage but are quite common and "tastes"!
– Why do you think someone should travel up there;
– Because Mongolia is a unique destination and so different than we can put our minds. Today Mongolia attracts the Greek traveler as he will have the opportunity to experience the experience of nomadic life inside the yurt, which is exciting, authentic and unique. Especially now on holiday Mongolia is a unique destination, especially graphic. And another good idea for those who love the intense and exciting experiences to make their holidays in China and jump from there to Mongolia for a few days to savor this unique experience.
– If you ask me to tell an equally good proposal for journey ahead of events but in the western hemisphere this time, What would you suggest me;
-I will again surprise and would reccomend Brazil because he is a different destination. just think, that on the evening of New Year two million people dressed in white descended to the Copa Cabana beach to celebrate the New Year. Exactly at twelve begin the fireworks filling the sky with the craziest colors and along the coast, length four kilometers, performed an incredible party continues until the morning.
– After such a successful professional career in the Greek market Who are your goals now ;
– After Greece, Thailand and Cuba Our immediate priority is to invest strongly in other markets of Asia where one things running with other rhythms and the growth is exponential. I believe that with careful steps we will achieve very quickly our goals.
– Your Europe interested;
– Certainly! I watch with great interest the development of tourism in Central Europe and I think it is now time to enter dynamically in' these markets, to give the opportunity to' these folks to experience the destinations already offer in the Greek market so successfully. Our experience and people who trust us for so many years on his travels is self-evident proof that we can do and there!
30 years we now offer trips to unique destinations , for vacation , relaxation and wedding exotic trips , individual and group on economic prices!