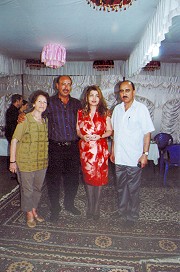 Μια Ελληνίδα πρέσβειρα του τουρισμού του Κασμίρ
Μια Ελληνίδα καταξιωμένη στο χώρο του τουρισμού εδώ και πολλά χρόνια,
η κα Μαίρη Σούλη – Kafka, διευθύνουσα σύμβουλος του Cel Tours, έγινε πρόσφατα πρέσβειρα του τουρισμού του Κασμίρ για την Ελλάδα. Ο τίτλος απονεμήθη στην κ. Μαίρη Σούλη – Kafka από το διευθυντή τουρισμού του Κασμίρ κ. Farooq A. Shah και από το διευθύνοντα σύμβουλο του Culture & Nature Expeditions κ. A. Rauf.
Όπως δήλωσε η κα Σούλη-Kafka, είναι πολύ σημαντικό για την Ελλάδα μια μικρή σχετικά χώρα, να καταφέρνει να αναγνωρίζεται ως "τουριστική προοπτική" για το Κασμίρ. "Πιστεύω ότι το Κασμίρ είναι μια πολύ ωραία τουριστική πρόταση για τον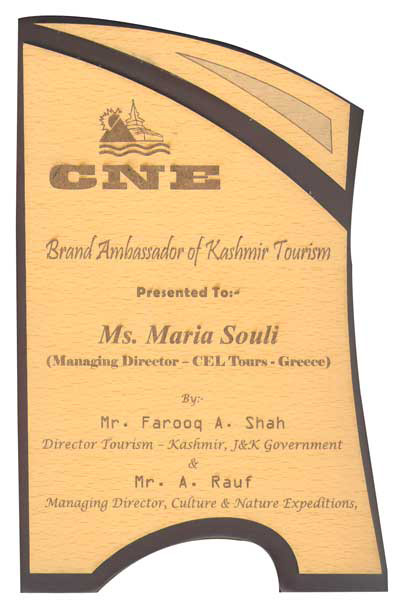 Έλληνα ταξιδιώτη γιατί προσφέρει ΅μια εικόνα της Ελβετίας στην Ασία με ξεχωριστό περιβάλλον, με λίμνες και βουνά, και όλα αυτά σε μεγάλο υψόμετρο δίπλα ακριβώς από τα Ιμαλάια. Παράλληλα, κυριαρχεί η Ινδουιστική κουλτούρα με τους υπέροχους ναούς και την απέραντη ηρεμία. Για τον Έλληνα τουρίστα θα είναι μια ταξιδιωτ ική εμπειρία μοναδική αφού θα γευθεί την ξεχωριστή κουζίνα, αλλά και θα μείνει στα παραδοσιακά ξύλινα καραβόσπιτα".
30 years we now offer trips to unique destinations , for vacation , relaxation and wedding exotic trips , individual and group on economic prices!